We gonna haunt again!
January 6, 2022
I know there are a lot of SENSUAL HAUNTING fans here!
2015
We've released this game many years ago on sexandglory.com. In 2015 the game was praised for the interesting concept, unique gameplay solutions and engaging story. The characters were diverse – every girl got different personality and hidden secrets making exploration of the house, interactions and a process of unfolding the plot a thrilling experience.
The problem was just enormous amount of grind – I was playing this game many times in the recent weeks and I need to admit it was really mundane effort. Maybe it was okay in 2015 but this gameplay aspect isn't attractive enough now. Slow stat building, chasing girls from one room to another, seeking for any possible interaction – we've made a decision that if we want to come back to that concept, this need to be fixed.
Take a look on the visuals from the original SENSUAL HAUNTING game. If you want to play it, you can find it on sexandglory.com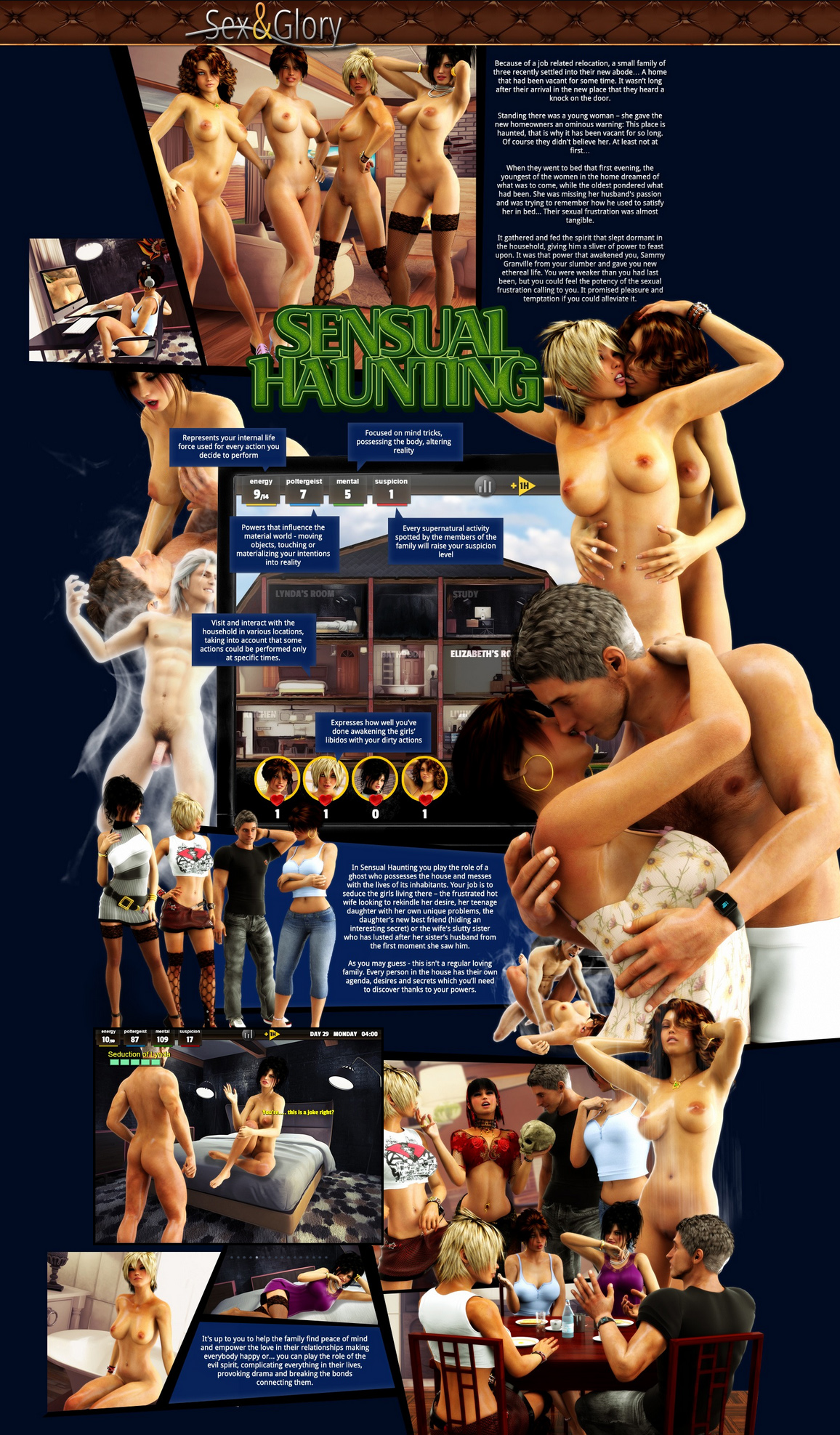 Many of you were asking us about the sequel. To be honest, we were thinking about that for many months but finally we've never made it.
2022
Right now, in 2022, we would like to announce a new project which will be build over the foundation of original SENSUAL HAUNTING. We're going to come back to the same location, haunted by Sammy Granville, with the same characters but… played by different actors. We've decided to cast different models to the game because we want to make a huge refresh – not only in terms of new gameplay, extra content but also astonishing visuals. Old models based on V4 were just to outdated and we wanted something really one of a kind.
To keep our old fans content, the new cast is based on the old models – we've tried to keep the spirit of them, by having similar outfit elements, hairstyle or just this evil something in the smile. I'm sure players who know the original game are going to easy find similarities between new and old girls. Models were designed by YamYoda – the same guy who gave us Tracy and Lisa and the whole game will be rendered by BUBX who recently delivered us so well received BLOODLINES and many other games in the past. Copywriting? NEALE – the girl with a huge experience in the area of a little more ambitious erotic texts, responsible for ARKHAM, ROMANCE AFTER DARK and more.
Rendering process will start soon and Neale is already working with texts. I was playing very early prototype of the game, only text based, and I need to admit that Ivan made a fantastic job with switching the gameplay from mundane stat building grind fest into an well paced visual novel with great interactivity. But be not afraid, it's not typical visual novel with a lot of texts to click – more like an interactive story where you travel between locations and take actions which will influence your stats and future outcomes. Something so perfectly balanced that you'll fall in love with it.
Below you'll find some first concepts – not final quality yet.
We've very thrilled with this project and we plan to release it this year (2022). What's more, we're designing an expansion to BLOODLINES – we'll present more information about that project later.
And yes, LWT expansion is still under construction – right now we're rendering, writing texts and soon we'll start the development process.