Dignity One has landed!
May 20, 2015
Today we're releasing our latest PREMIUM game – epic space western with RPG elements and galaxy to save.
Jack has had better moments in his career. Right now flying on the absolute final fuel reserve, he is trying to find a quiet planet to dock and find an odd job to earn some money to refuel his ship. Dignity One isn't a shiny new vessel, but she's never let Jack down. April is a great mechanic and a very enjoyable companion, but after many years of working together she has begun to lose hope and faith that Jack knows what he is doing. And what's more, both of them have been utterly depressed for many weeks now because…
…because the Swarm is coming to this end of the galaxy. No one knows where it comes from or it's purpose. This ancient race has never tried to communicate with humanity – the only language they know is one of violence and blood spoken by slaughtering millions of human beings. Human star fleet was devastated by the first strike – since that moment no one has tried to challenge the Swarm mothership in open combat. During that epic strike, hundreds of military ships were destroyed and all hope seemed to die.
Swarm is devouring planet after planet. So far nobody has been able to resist it – the only way to survive is to escape as far as possible and pray to your God for mercy. What happens to devoured planets? It's hard to say because nobody has ever come back from any research missions. But there're rumors, death is the penalty for spreading them, that the Swarm is trying to… modify the human race to become hosts for their young ones.
So people are awaiting the inevitable. Some of them run away, some are hoping that the Swarm won't attack their world and some… don't give a shit about it, hoping that somebody else will solve the problem for them. And what's Jack and his crew's part in this? We're about to find it out…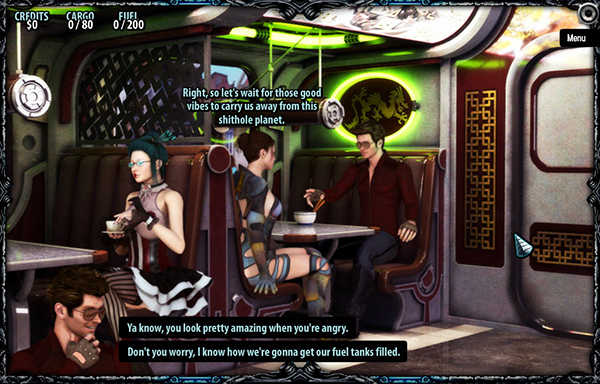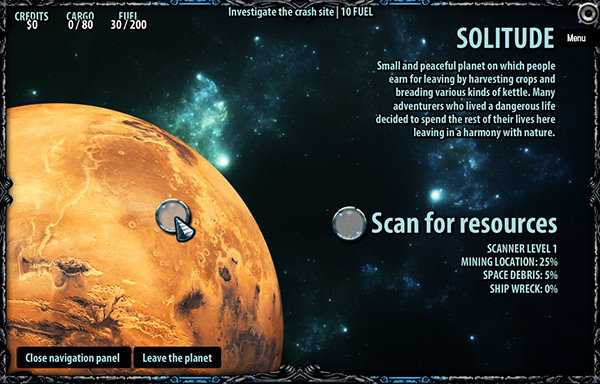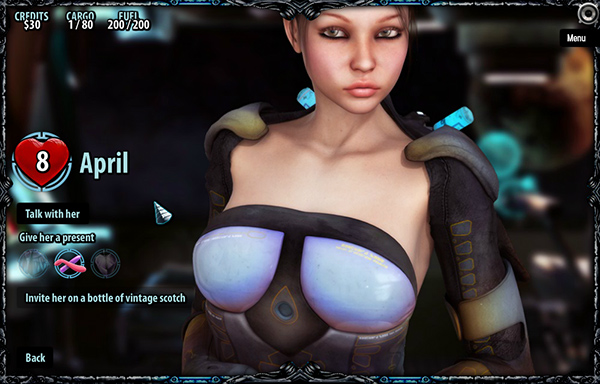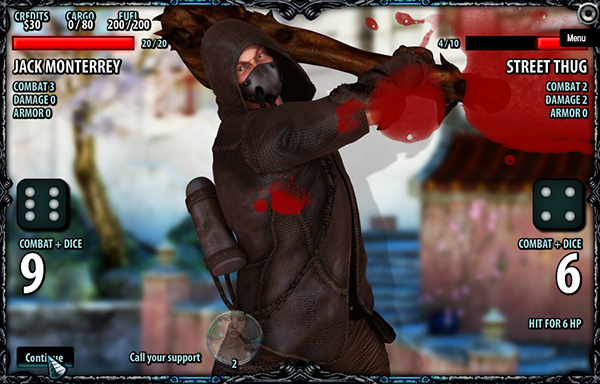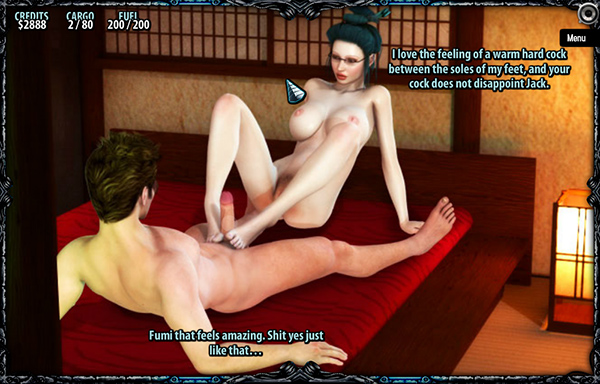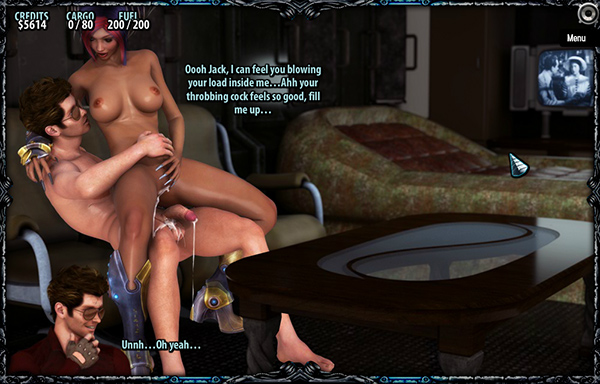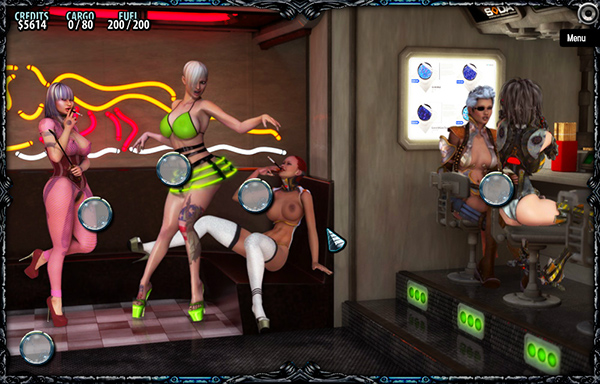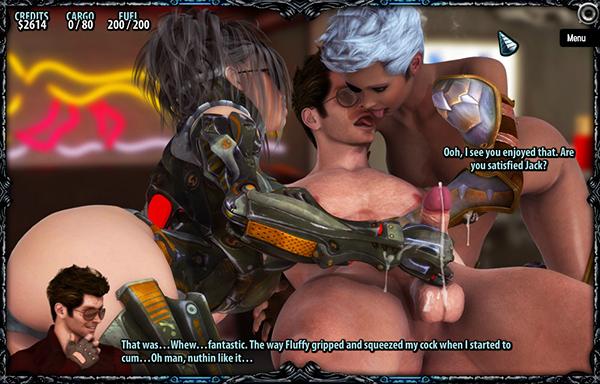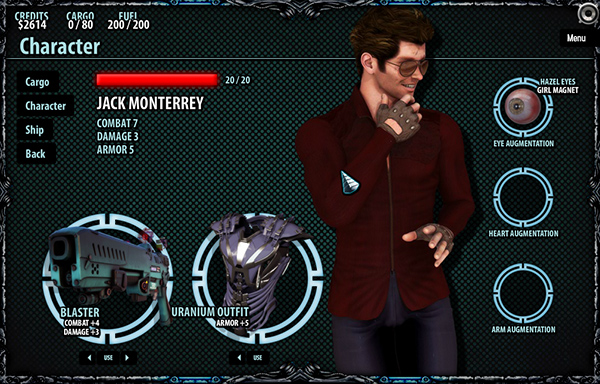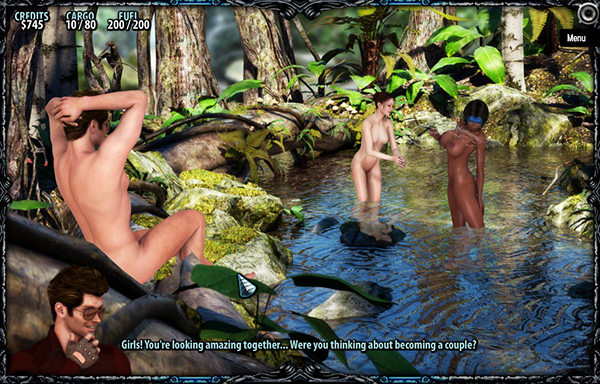 Girls
During your epic journey you will meet a number of lovely girls. Some of them will spread their legs for you in exchange for a couple of credits… and some will require a more romantic approach. They are counting on your attention, some fancy gifts and a promise, that when the Swarm comes, you will take them somewhere safe.
Space exploration
With your vessel Dignity One, you can visit several planets where you will find interesting quests as well as valuable resources to obtain. But beware – those territories are also full of desperate pirates and other lunatics just waiting to stab you in the back and steal all you've got in your cargo bay.
Upgrade your ship
In the space ports you can spend your hard earned credits on ship upgrades that will help you take your mining business to a new level with better droids and more precise scanners. Also, with better sensors you will be able to detect crashed vessels and salvage what's left from them.
Fight for your life
Sometimes Jack will be forced to face his enemies in combat. If you want to keep him alive, arm him with new devastating weapons and protect him with body armor. If that's not enough, augment his body with various upgrades and call your crew members for support during vicious fights.
Non-linear story
As always in our games – you shape the story. There are a lot of crucial choices altering the plot and events you can encounter during your journey. You can play as a Jack who is full of compassion or as a Jack who cares only about himself. It's up to you. Depending on your decisions you can reach one of 6 game endings.
WANNA PLAY?
Board Dignity One here: Dignity One at lopgold.com