Eleanor 2 is here!
April 8, 2016
Yes – today we're giving you Eleanor 2. After many many months of rendering, writing texts and development – it's finally here.
Previously, we got a chance to know Eleanor as a woman who couldn't manage her credit card balance… nor keep her sexy thighs from spreading invitingly. Yes – she was not only spending all of her husband's money, but cheating on him on a daily basis.
But she recently had a chance to change some things in her life, as Drake decided to start his own business in a new city. A fresh start in a new place, free from the shackles of the past… but not so free from her new obligations. She will need to work besides her husband, wining clients for his nascent company and taking care of their home – which, compared to shopping sprees and drunken gangbangs, sounds lethally boring.
Is she ready to change? Is she ready to focus all of her feelings on her husband and forget her previous life style – full of temptations and passionate sex with strangers? I guess you'll need to find out by yourself.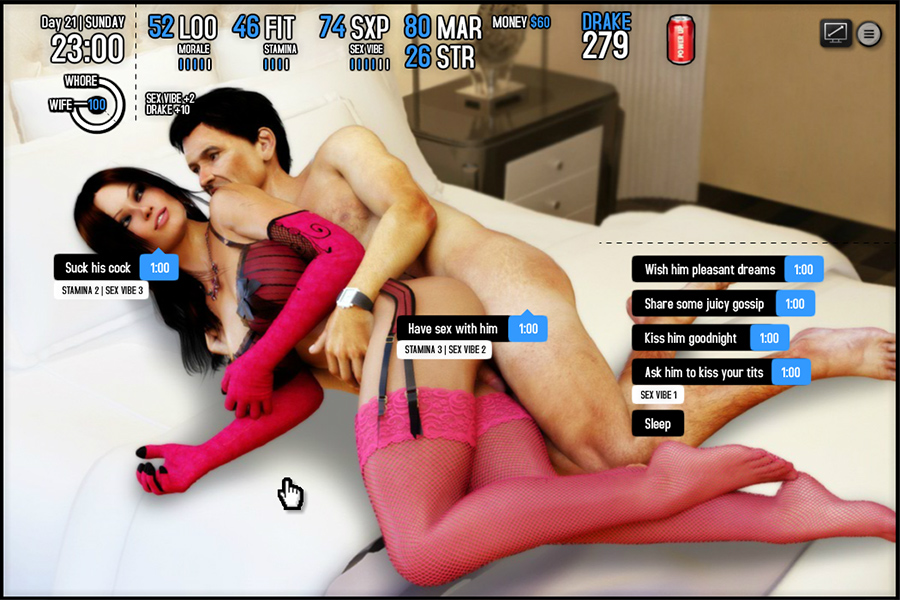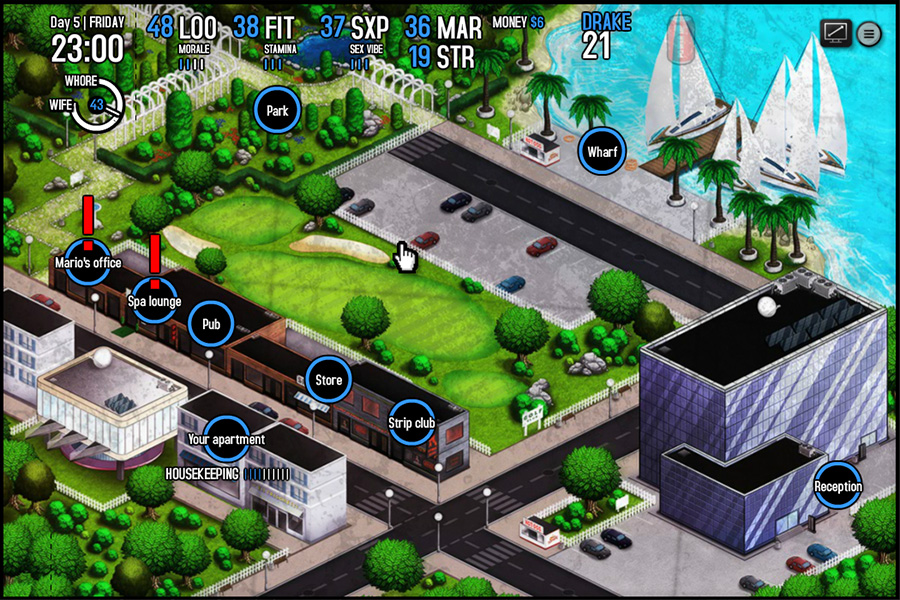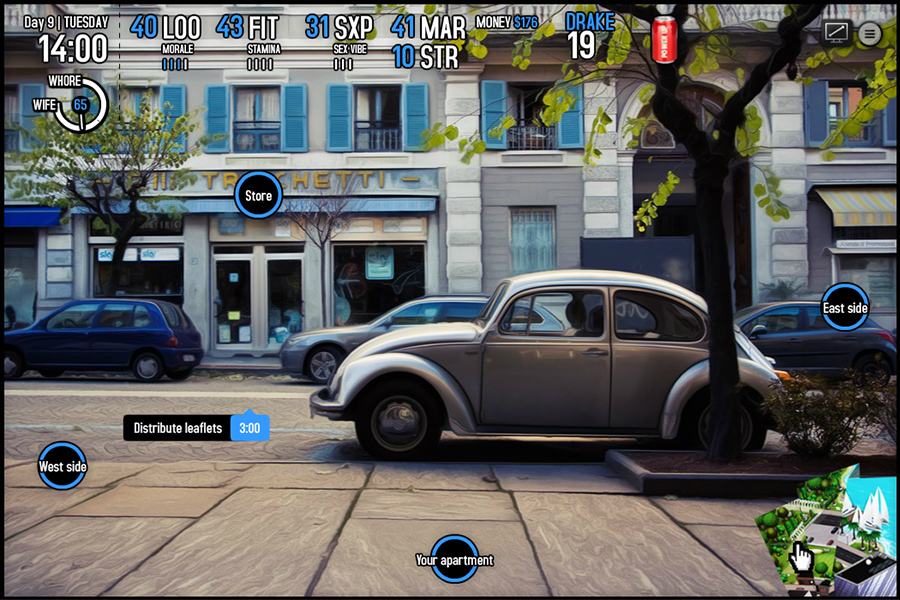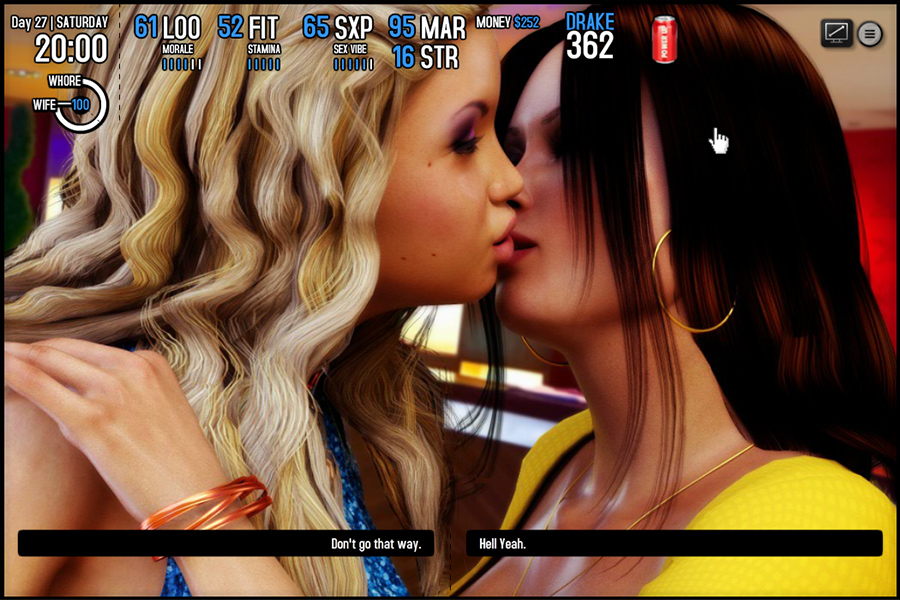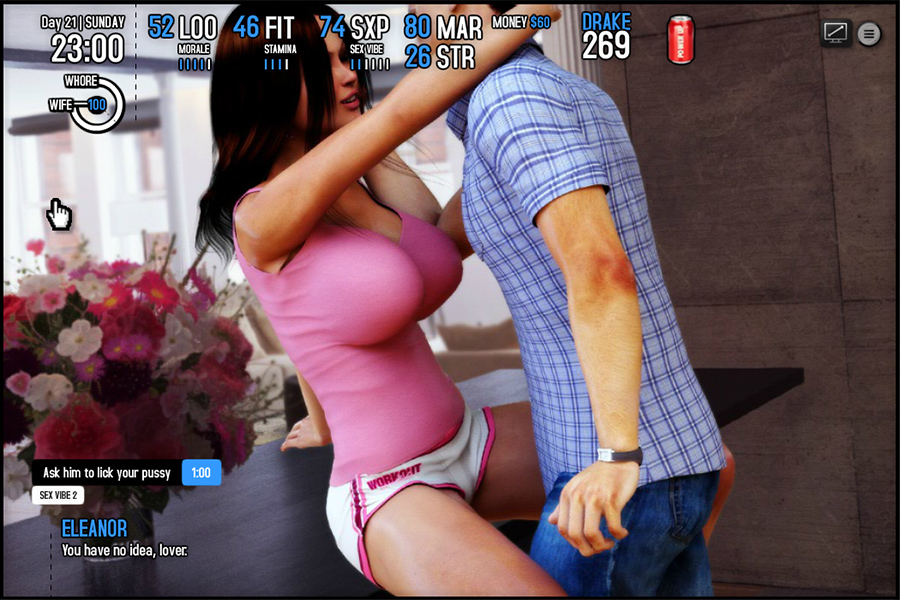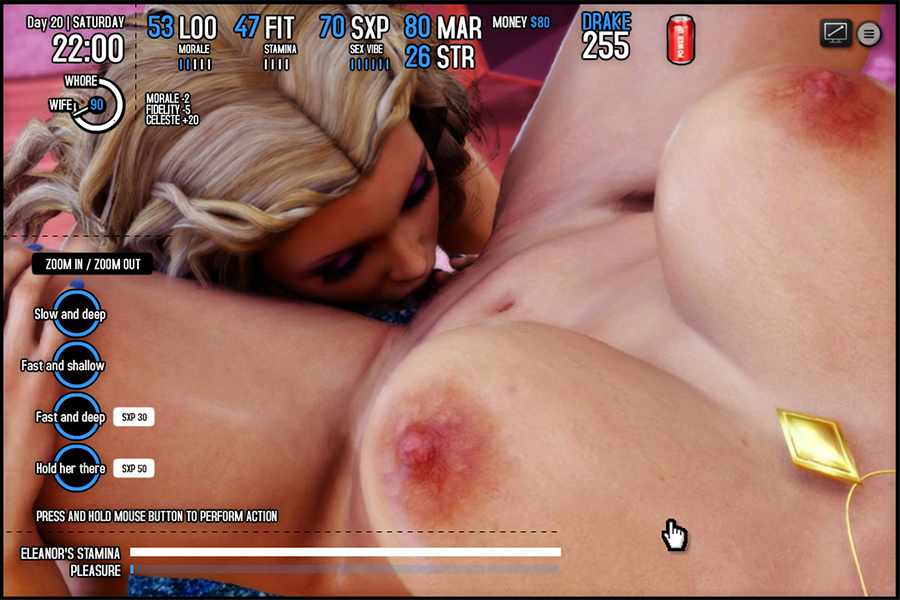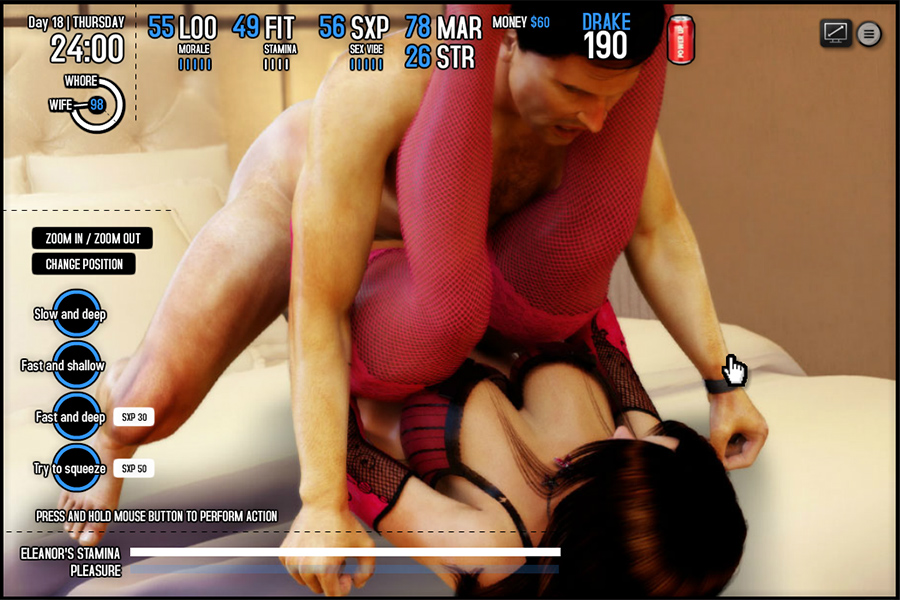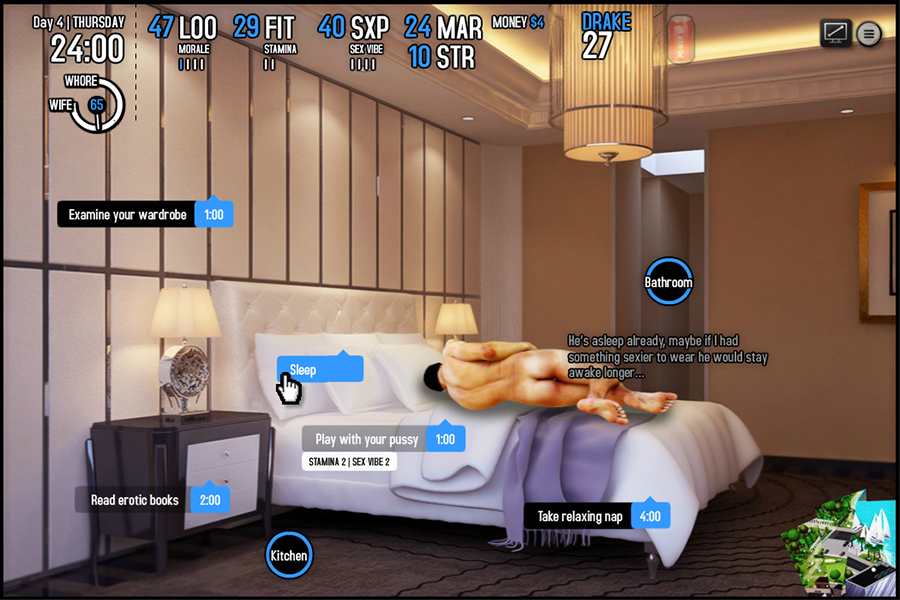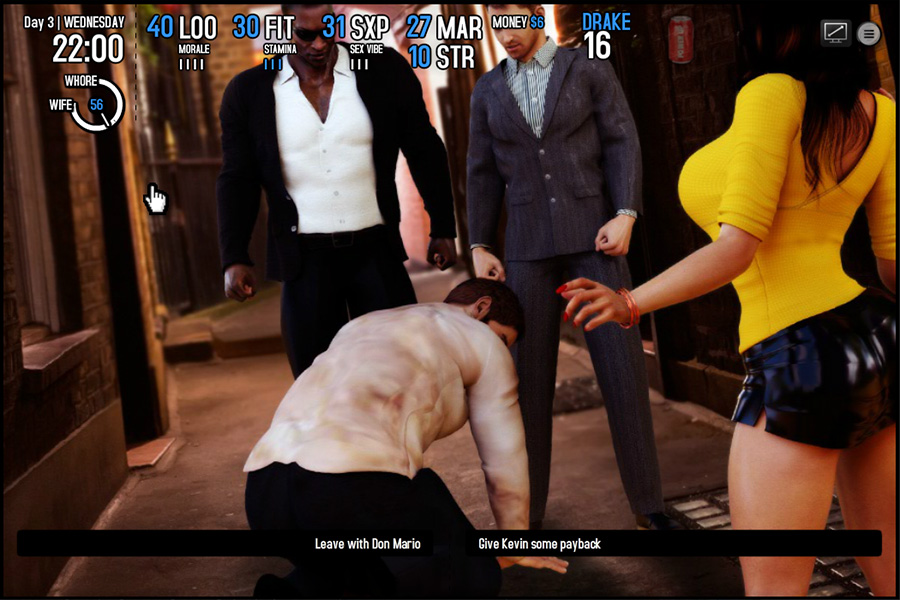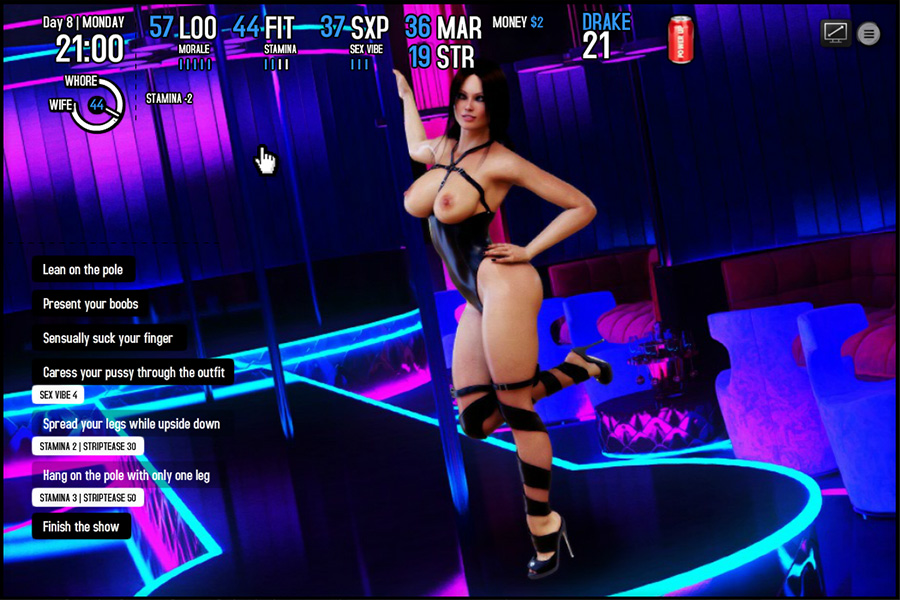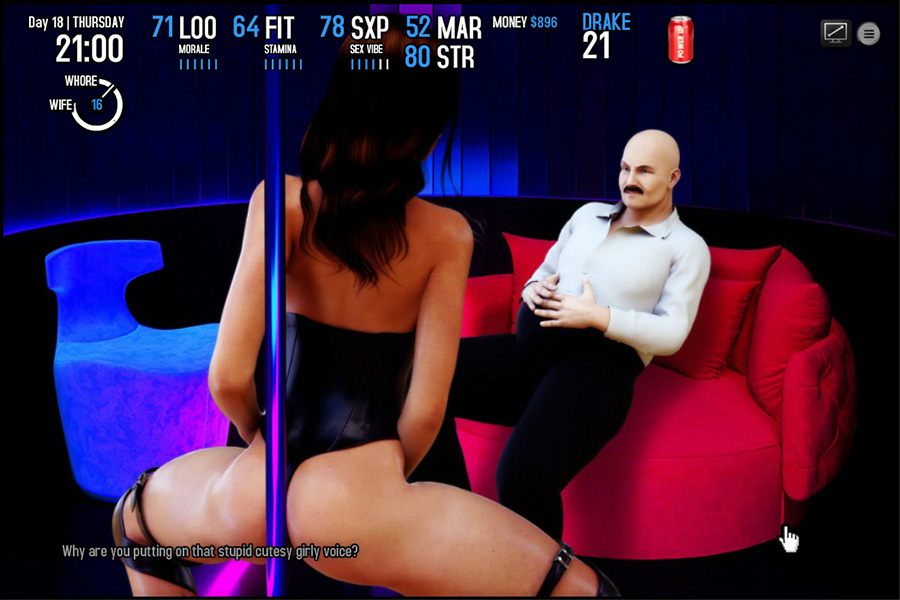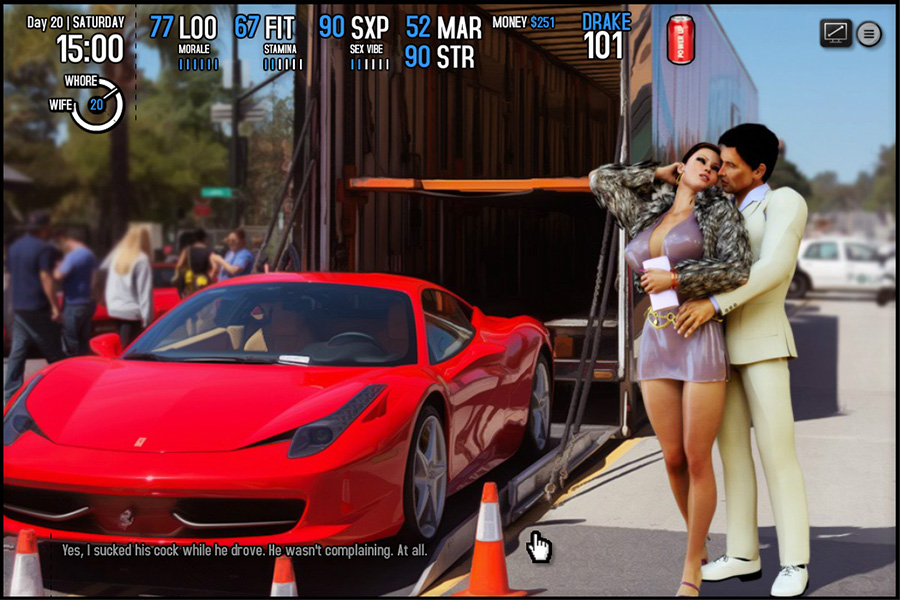 PLANNING TO BE A PERFECT WIFE?
No problem – just treat you husband with respect and show him that you really love him. Spend as much time with him as possible, flirt with him and tease him. Give him a lap dance hot enough to make him cum in his pants. Surprise him with sexy clothes and offer ourself to him in the places where he would less expect it. As you see, being a good wife doesn't  sound boring at all.
EXPECTING TO GET DIRTY?
Yes, please. There are a lot of handsome hunks in this new city, as well as flirty girls open to new experiences. If you're going to be an easy girl, you just can't find a better place than this. Dance in a strip club for money, romance the mobster's wife and suck his cock to keep his mouth shut. And don't forget that you're working in an elegant secretary suit – who could resist you in the workplace?
HOW DO YOU PLAY THIS?
Eleanor 2 is an erotic life simulation. During a given day, you may choose several actions which influence your statistics – for instance, some of them add bonus to your FITNESS and some decreases your MORALE. There are places where you can earn money and a shop where you can buy new outfits, presents and everyday items. Try to find the right balance between pleasure and duty, because your job is not only to take care of your character's stats, but also your relationship with the other characters in the game.
During a playthrough, you will take part in events that will let you take important choices and influence Eleanor's future. Depending on your actions and stats, you may finish the game in 7 possible ways.
WANNA PLAY?
Eleanor with her gang is waiting here: ELEANOR 2 at lopgold.com
But hey! It isn't our final word.
Next week we'll publish more info about plan concerning Eleanor 2.