What comes after Horos?
April 28, 2023
We plan to release HOROS 11th of May. There is still some work to do with that game (complete the text verification, adjust the web precaching mechanism and perform some more tests), but everything is generally almost complete. I'm very proud of this game, and I would like to develop a lot of expansions to that title because I adore Horos and the whole mix of RPG and erotic game concepts.
What comes next?
CURT MADDOX: WIDER HORIZONS
Please meet our black horse. No one was expecting Curt gonna rock, but… he did that. It's one of the highest-rated games we've ever created (rated by lopgold.com members), praised for the exciting mechanics, genuine characters, variety of sex scenes and interesting bonus features like finding secret envelopes and discovering secret images.
With the expansion, we will add two significant plot lines, including new original characters – FENG SHUI, an Asian trader from the train station (she has her oriental-styled apartment just over the ticket office). She is in love with Hank but is ready to offer something unique to Curt as well. With that plot line, we'll have an additional chance to spend some time with Hank's adorable (but slutty) daughter and discover Sue as a true friend, ready to sacrifice for Curt a lot.
We got less romantic, more action-filled events with CANDELA RIVERA, an adventurer trying to survive as a woman in the wild west crawling with dirty bastards trying to use her in any possible way. But she is tough and smart enough to say no. She knows how to use a gun as well as other of her assets (including long legs and huge tits). Can we call her fame fatal? Maybe. But is Curt rational thinking enough to say 'no' when she stands in front of him in sexy lingerie?
We got all texts ready, and I'm currently waiting for the images – the FENG part. I'm promised to receive them by the end of this month. Scenes with CANDELA are already rendered.
LWT: LUSCIOUS SECRETS PART 2
More content is approaching!
TRACY
For those fans of the hotwife and cuckold lifestyle who love seeing Tracy be mischievous, it's practically wicked. We have excellent news – Daniel is returning for some fresh scenes with Justin's wife (both cuckold and traditional wife-sharing). Of course, that part is optional if you don't like the idea of your favorite one being promiscuous with other dudes. You will also get to visit Tracy at her workplace, charm her in her glamorous business garb, and engage in a sneaky session of sex in her office.
LISA
When Tracy is at the cabin, we'll have the choice to stay with Lisa in your bed for the night.
KEIKO
Tracy may be unable to manage her attractive Asian administrative assistant, but Justin has no trouble getting along with Keiko. In this DLC, Justin is granted more time with Keiko than ever before – a chance to slyly court her in Tracy's presence. Will you take the risk and bring them together at Keiko's desk, the breakroom, or even Justin's car? Can Justin withstand the temptation of her alluring advances, the sight of her stunning body, and those irresistible smiles? The answer is yours.
SANDY
An evening of mesmerizing fun awaits you at Sandy's place.
LIBRARY GIRLS
Do you recall the library ladies? They are die-hard supporters of Justin's work and want to know him better. Justin can exploit this situation if he desires, which could result in more prospects for group sex. The original girls would be crafted as wholly new models.
There is still much work ahead of us with the rendering, but I hope we'll make it on time. The texts are almost ready.
HOROS EXPANSION
We plan to release the first HOROS expansion, including extra content. The first part will be oriented around hot threesomes between Horos and girls. Then, if your moral compass allows you, between a vampire called Emil and Earl's wife, Aleneite.
The second one will focus on the exploration of new territories, including new enemies and the final boss (the sexy one, who needs to be slayed with your huge cock instead of a sword).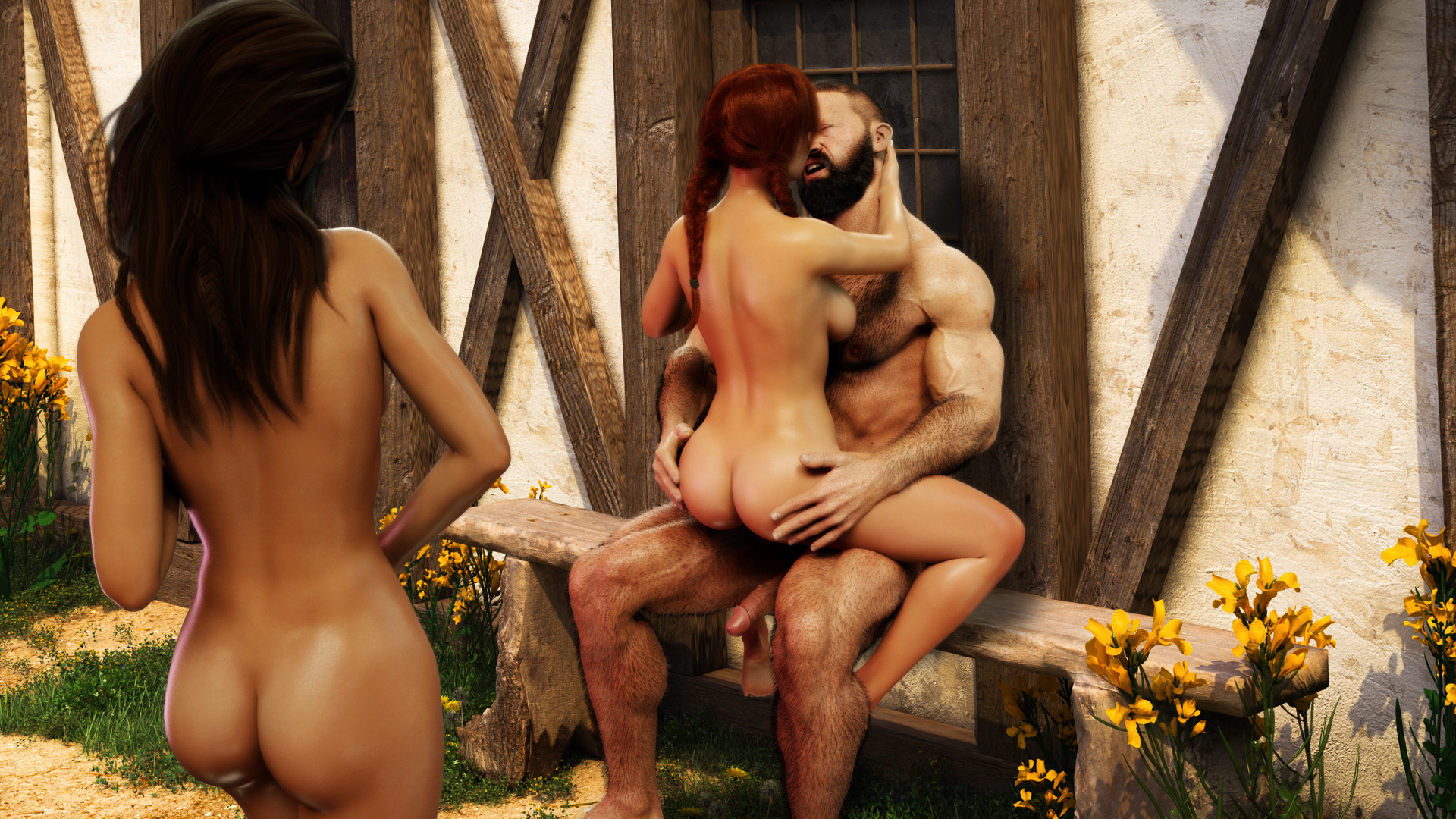 CLUB VELVET ROSE
Then we'll enter the CVR again, with new characters, remodeled scenery and new kinky stories to tell. It will be a paradise for all kinds of wife-sharing and swapping fans and a visual feast for everyone.